There are many lovely resorts, inns, entertainment venues, and restaurants, bars and pubs in the zone.
Restaurants, Bars, Pubs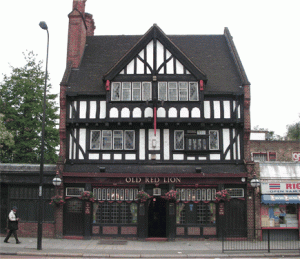 The Royal Hind
Traditional Pub with a more nautical theme. Have very good seafood.
Menu includes whole lobster, rock crab, and really good chowder. Do have beef and pork, lamb…
Daily specials are usually the New England style Clam Chowder, your choice of six rock shrimp (taste lobster) or a dozen oysters on the half shell, a large breaded fillet of cod or scallop fettucini.
The Helgram Special is Fish and Chips, skewer of three grilled shrimp, skewer of three grilled scallops with bacon, and a large mimosa.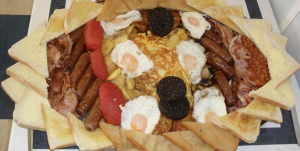 The Rose and Crown
Traditional Pub, good Shepherd's Pie. Knows a truly righteous British Breakfast.
[Back Bacon, fried, poached or scrambled eggs, fried or grilled tomatoes, fried mushrooms, fried or toast with butter, sausages… Black Pudding, baked beans, bubble and squeak and hash browns (bubble and squeak, leftover potatoes and cabbage, possibly carrots, peas, brussel sprouts, fried into brownness.) Sometimes also has fried sardines.]
Shepherd's Pie….Ground/chopped beef or lamb, onions, carrots, peas, corn. Bit of broth and wine, topped with mashed potatoes with stuff, and baked.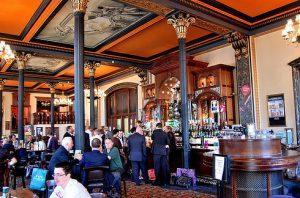 Speaklightly
Mid to upper italian restaurant. You wear suit or cocktail dress. Unless you're Royals, you need reservations!!!
The Maitre'D is unbribeable. The Maitre'D on duty was taught all known Royals, so will NOT have an issue with finding the group a table, and they do NOT enforce the dress code with Royals.
Michael and Vizier, etc, are welcome and treated as Royals.
Speaklightly does have bouncers.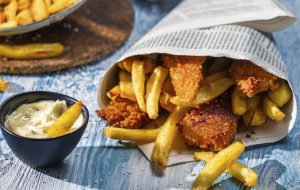 Paddingtons
Fish N Chips Brit style. Also some other seafood, better than Red Lobster. Have pretty good chowder, breaded shrimp, grilled shrimp, fish fillets and fish sticks.
More of a takeaway shop, to the right is some tables under an awning in the former carpark. There are some potted plants and that to pad out the fence to the road, makes it not too bad. No magic though for bug or climate control. Street in front is standing parking to pick up order at the right side where the two gents are standing.
Buffy's Bar and Grill
Family oriented. Do not go here middle of day if you want peace.
Fairly simple food, does a passable Sunday Roast dinner. Usually full of families most afternoons and evenings.
They do have someone producing Blue Ball Ale, which isn't bad. They otherwise have a limited tap available.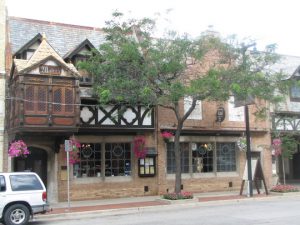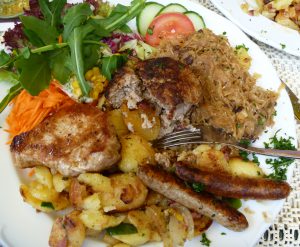 Binstolf's
Polish-German-Russian cooking. Seriously hearty fare. Run by family.
There is no place outside to eat, but the street windows are large and diners can get a good view of the world out there.
They know seasonal beer too. They also have a lot of vodka's, home made/locally crafted.
They do believe in onions and pickled/fermented foods, but you can ask for your food without that stuff. If you don't you'll get it full traditional style.
Sea Roade Inn
Seriously good and fresh seafood, have amazing chowder, and large lobsters.
Carry 197 different kinds of rum. Prince Gerard is listed as a patron, and a very large heavy glass footed goblet sits behind the bar for his use.
Heavy on the booze list, have a lot of rarer stuff. They do have rooms upstairs if you can't make it home, otherwise they do not let out rooms at all. They close about four am and open about eleven depending on the night before. They know all the current Royals.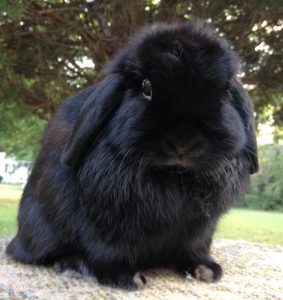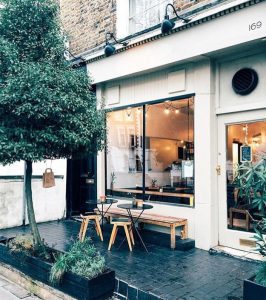 The Black Hare
Sort of Yuppie upscale, and is good at making cocktails and mixed drinks. Light food menu, has daily specials.
Behind the bar, behind some serious see-through wall, lives a family of black rabbits. Their hutch can be seen into and they have a large run. The pair occasionally have a litter, and at 8 weeks the small ones are removed.
They have Welsh Rarebit on the menu, no rabbit.
Lunch menu includes various hot sandwiches such as over the top grilled cheese with different cheeses and meat added, and artisanal breads.
The favorite lunch item is an inexpensive for them,  grilled cheese on herbed wheat, with three cheeses and crumbled smoked bacon, a cup of their tomato bisque soup, and a light beer.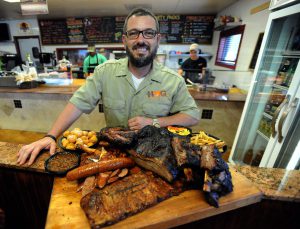 Myer's Pub and Meat
Next to a butcher's that does all their own in-house and produce things like summer sausage, etc.
They know serious protein and stock it; they can drop a 2kg steak.
They also have their own family brewery and do righteous beer and ale. The house special is a medium light ale with a few spicy herbs, it sits on the tongue well and goes with most of the heavier menu items.
On Wednesdays they have an all you can eat buffet, with servers at stations to carve the barbeque offerings fresh for patrons. Royals they are used to, and can feed the appetite of several Family at the same time.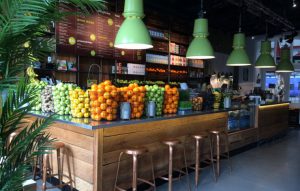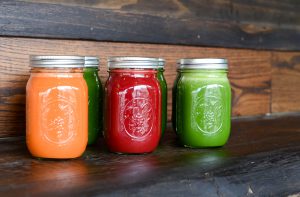 Bev's Fizzys
Soda fountain crossed with an Orange Julius. No alcohol. Does a lot of custom juice blends on the spot as ordered.
Those that go out on the miniscule patio (2 tables, total of 8 chairs) to take the air often do bring forth a bottle and add their own ingredients to their beverages. As long as they don't do it in the store the staff doesn't mind. They are just not licensed for alcohol.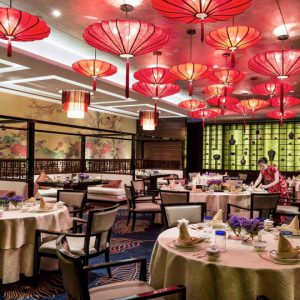 Canton Inn
Chinese, Cantonese style food.
They do cater to the western love of alcohol and have a large selection to offer.
Do beware of the large bottles of Chinese beer, that can be rather strong stuff. Homebrew, not even microbrewery. One bottle can be easily shared by four mortals. Might singe the nose hairs of an Amberite.
Lunch is their busiest time, expect a wait for a table of up to two hours. After 3 pm it is often much better and you can walk right in. There are many Helgrams that eat here so being Royal doesn't get you much in jumping the line.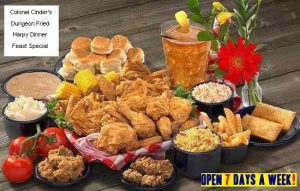 Colonel Cinder's Dungeon Fried Harpy
Like KFC but doesn't have someone like Harlandor as the mascot. They have drive thru and takeout.
There is usually a standing line but being Royal will get you a seat usually.
They serve a few ales, wines, beers, but not unless you ask. And are a Royal. Some of the staff has been trained in who is a true Royal and who isn't.
They do not have an eat outside area. Either you consume it inside or take it home with you to eat at your convenience. Pro Harlandor or Mandorites get hoofed really fast.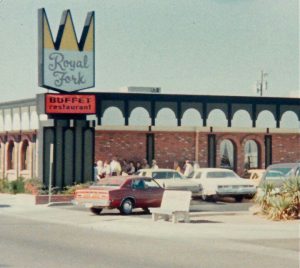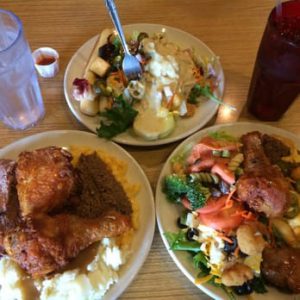 Folen's Royal Fork Buffet
Family buffet, menu cycles daily through the week.
All you can eat but eat all you take or they will ban you for life.
They do not serve alcohol.
There is no outside eating area. Just the parking lot and no tables anywhere near outside.
Things like the ham and roast beef are set up with servers carving the meat to demand.
They do know all the current Royals but unless you are Draco Michael or Raccoon Vizier, no one will carry your plate or bring you food. Usually no waiting and the food bars are grouped by type of food and are self-serve.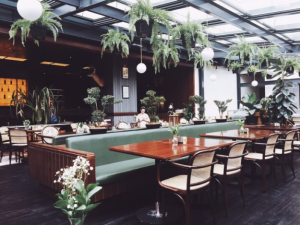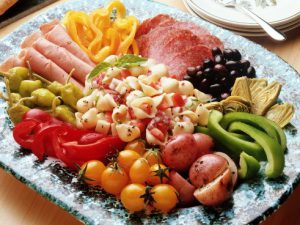 Fuze
Upscale hipster, fusion type stuff. Decor matches. No deconstructed.
Beer, Wine, Ale, cocktails.
Full of Helgrams usually, who like the seating area with all the glass but it keeps the street riff and raff from harassing them. A lot sneak from Amber City or Port Royal for a long lunch break and usually end up at this one. 11-2 is pretty hectic and can result in standing lines. Supper usually isn't bad until after 9 to close (around midnight).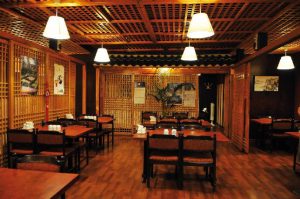 Kim's Korean Restaurant
Serious Korean food. They do not have an 'american' menu. Their Kimchi is cabbage based and very renowned.
The food is fresh and beautifully presented.
Liquor is limited, and they do have Korean Beer. That stuff is back room brewed and can be very strong. They have a few wines, other beers, and ales.
There is no outside dining area. Busiest time is about 11 am to 2 pm; being a Royal helps with getting a table. They do know all the major Royals.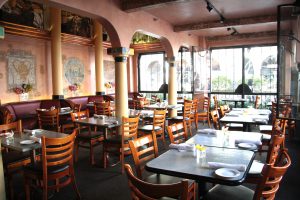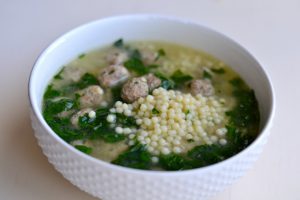 Luigi's
Italian restaurant that looks a lot like a classic Italian restaurant (okay one from the 70's maybe). It has a large patio out to the side with pergolas covered with grape vines. One can enter this area from the street.
They are renowned for their Italian Wedding Soup, and the handmade Raveoli and the Veal Parmesan are to die for.
They have a large wine list and also carry a lot of beers and ales.
There is free bread with any full meal ordered, small loaves brought fresh and hot to enjoy with butter or olive oil and herbs.
They are very popular with Helgrams sneaking from Amber or Port Royal for lunch. Their special varies, but typically a small antipasta salad or cup of minestrone soup; spaghetti with marinara and meatballs; and a glass of wine or a mimosa. They are VERY busy between 11 and 2, but being a High Royal helps in getting a table (the staff knows PC's and Major NPC's).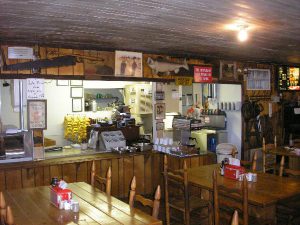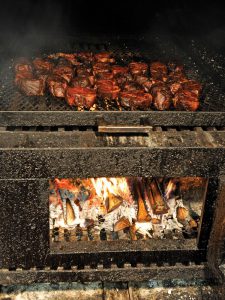 Marc's Ribs n Things
Barbeque pork ribs, pulled pork, and large half pound juicy burgers. They know beer. They also carry a few ales and some wines, don't expect anything really old and rare.
The restaurant has no outdoor seating area other than a disreputable picnic table that is sort of canted funny and mostly peeled off by the back door. Interior looks like a redneck eating joint of the late 60's to the early 70's. This tends to scare the Helgrams off, though there is a lot of takeout business.
The waitstaff is about half male and they do wear bib overalls. The women wear jeans and bandannas over their hair. Any one of them can hoof most anybody. No tossing bottles and no fighting. The jukebox in the corner looks like somebody lightning bolted it and it is not lit up.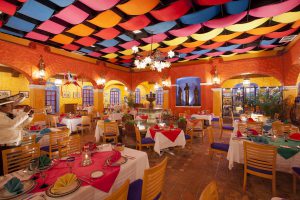 Margarita's Casa
Full mexican food. American or Mexican style. Beer and full liquor. They have 17 different kinds of tequila.
There is a lovely huge outdoor gardened eating area with pergolas and awnings, some climate control magic. Water runs, the plants are lush. You can enter this area from the street, it goes beside the building. After dark it lights up well and is open to past two am. This place is rather popular with Helgrams, mostly mid day though.
They do serve salsa and chips with any meal order; and will bring refills unless all the others are mooching off the one that ordered large.
Mumbai Corner
Indian food, excellent curries in both British and Indian style.
They have some beers, ale, wines, and a few mixed drinks (such as a gin and tonic).
There are two dining rooms, the more formal that usually takes reservations and they enforce a dress code (suit and tie and cocktail gown). The more casual side is relaxed, and the two have doorways between them that are usually blocked by folding screens for noise control.
Being High Royal helps with the dress code being ignored and in getting a table. The staff knows all the (PC's and notable NPC) Royals.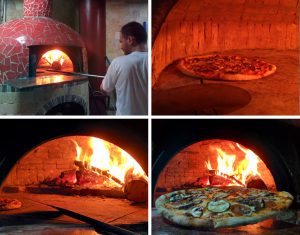 Old World Pizza
Mom and pop pizza restaurant, they also serve beer. Hand tossed and a real pizza oven.
The seating area is outside, as they are at the end of a short bit of street that was turned into a pedestrian path. A few serious posts at the entry to the area guarantee no vehicles.
There are some awnings that can be unrolled for wet or miserable weather, and some magics to help deal with hot, cold, and wet. Not showing in the picture are some lantern lights that light up after dark.
This is a family run restaurant, there are two youths of about ten or so, the fifth generation to work at this business. They bring waters, soft drinks and bus tables.
They really know their wines, this is the place for some of the older, rarer vintage. (no they don't have Oberonic)
The Helgram lunch special is an up to 3 topping 10 inch pizza and a glass of wine, small salad.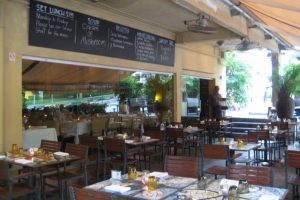 Omara's
Vegetarian, does serve fish, eggs, milk, and cheese. Has some of the best breakfasts even if the meat is 'fake'.
They have a wide roof overhang and an awning to make quite a large eating area outside. You can enter it from the street. The large set of windows makes eating inside almost seem to be eating outside. There are some magics to deal with the worst of too hot, two cold, or wet.
They do not serve alcohol. Smoothies, juices, waters, coffee, tea. They do believe in Kona Blue coffee. There are magics to prevent one from lighting up their own.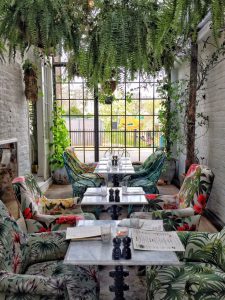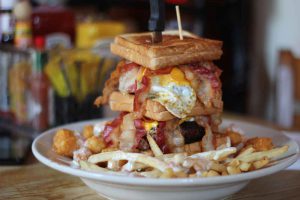 On-The-Mall
Right on a major crossroad, has an old building that was partially deskinned to show the old beams and turned into a patio garden dining experience. Magic was put in to keep rain/bad weather (or hot or cold) out. Hanging full of plants, magical lighting that adjusts day and night, it is a lovely place to dine or people watch or both.
Rotating menu, they are known for their hot or cold sandwiches (hoagies etc, think subway but much better) and can drop a steak. They serve beer, wine, ale, and have a full service bar. They have pretty good alcohol but no Napoleonic Brandy or Oberonic wines.
They do have bouncers.
Being a High Royal helps in getting a table, and often the group will get one of the more private corners to cut down on interruptions.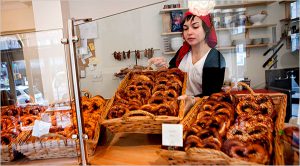 Pam's Pretzels
Big soft pretzels, macNcheese, breads-to-go, do fancier grilled cheese. Beer, wine, ale. They also do fairly simple but good coffee and tea.
There are just two tables inside that seat a total of eight, and four outside under awning that will seat twenty (two 4 seaters and two 6 seaters). You step up to the counter to order and pay, and if you sit down there are two young women who will bring the food and drink out to you. The girls look like younger sisters or daughters of Pam.
There is a second front door that is a dutch door, and is opened for the busiest times for grab and go (pretzel and drink) and is manned by one of the young ladies. Pam does all the cooking.
You can get either cheese sauce or mustard or both for your pretzel.
Quimby's
Serious barbeque place. They do luau style whole roast hogs and more. Family run, a minor member of Family named Quinn Quimby is the head of family and chief BBQ'er.
They Microbrew and keep their own vinyard as well. They do a better knockoff of Ruby Pale, and guarantee that Princess Evie has not been near their vats. (it is rumored that Quinn has a pair of hellhounds, he did Julian some major unspecified favors and asked for a mixed pair of puppies-not from same litter-for payment. The hounds are the night watchmen at the brewery in those back buildings… signs saying 'Tresspassers Will Be Eaten' may be deadly serious.)
Inside is a bit rustic, and about half the staff are male. If it looks like one of the gals may have a problem, then a waiter is sent over to deal with that table.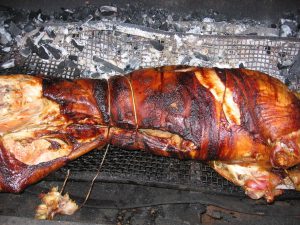 Red and white checkerboard oilskin tablecloths, papertowels on a holder, and mason jars to hold the drinks, things are pretty rustic. The food is fantastic, so ketchup, mustard, barbeque sauce (hot, mild) and sriracha sauce in squeeze bottles on the table, fit right in. The tables have cut holes to stick 12 quart galvanized pails in to toss trash and bones in.
Outside, you can enter from the street and go around back to a large enclosed area, buildings back it to make it secluded, and it is large. Here you can sit, eat, and truly enjoy. Awnings and pergolas make for protection from the elements and there is magic to deal with hot, cold, wet, and bugs/vermin. There is a pit installation for doing a whole hog, they periodically do this (takes three days).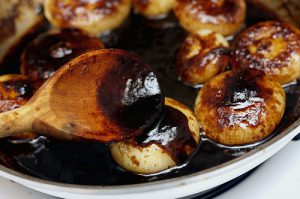 Quinn claims there are three generations of Pitmasters, which he tries to live up to. A lot of his recipes and proceedings are family heirlooms. He does a wicked grilled carmelized whole onion dish that he claims is his 'other grandfather's secret creation'. They have 'side' 'big side' 'main course' and 'hog out' portion sizes available. A side is 3-4 onions, and goes well with a big plate of ribs or one of their larger hand cut steaks.
He also makes the sausage served, himself. Some of the back buildings that ring the outdoor area have facilities for processing. The sausage is made and sold already cooked. (i.e., takeout)
They sell marinades, spice rubs, and several barbeque sauces from moderate containers to 5 gallon pails. As well as to-go. During certain times on certain days there is a Call window at the street and they have prepackaged dinners ready to go.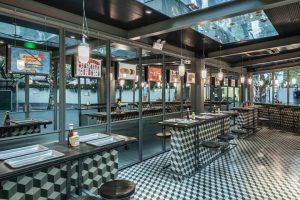 Rorington Pit Stop
King Leo's type burgers, sort of a drive in or to-go. Just has burgers, fries, onion rings, sodas and shakes. Their fries are lard fried for that extra flavor.
No alcohol and no smoking. Magic to enforce the latter.
The burgers are grilled over open flame,  they have that extra flavor.
There is a walkup to-go window, as during lunch it can get to a few hours wait to get a seat. Being a Royal won't help you.
In the parking lot, they coned off a set of four parking spots under some trees not far from the to-go window, and put down three picnic tables and some barrels. During lunch that will be full.
They have a Helgram special of a quarter pounder burger with trimmings, half a pound of fries (choice of ketchup, mustard, bbq sauce), and a large drink. It costs more to get a shake instead.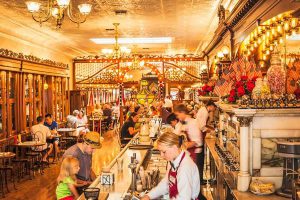 Sue Ellen's Ice Cream and Lemonade
Soda fountain ish, serves mostly that fare.
No alcohol.
Wicked rootbeer floats. Very popular for their signature 'death by chocolate' cone. Totally over top if you have hot fudge sauce, salted caramel sauce, whipped cream, and a cherry added to the cone.
They squeeze lemons fresh for their lemonade. Served tall over crushed ice, it makes for a very good cooling drink.
They churn their own ice cream in the back so have some unusual flavors at times. They will do seasonal like tomato, pumpkin, etc.
There is a wide front porch type verandah on the building front, and it has a number of chairs and small tables to sit at to enjoy your treat. There is no service out there, you must go in to the inside fountain counter or sit at one of the inside tables to get service.
They sell pints, quarts, 5 quarts and 5 gallon containers of ice cream as well.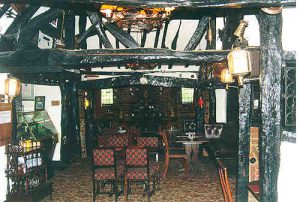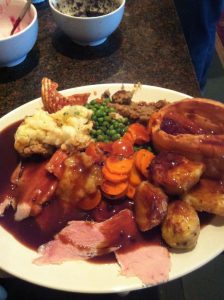 Swington
Brit fare, knows kidney pie and Sunday roast. Of course the Roast is the special on Sunday.
The building has been moved three times, and this is the second food place to have graced it.
They serve wine and beer on Sunday only, and are 'dry' the rest of the week.
There is no outside dining area. There is a pool table and dartboard tucked in a side alcove, so it is possible to play traditional pub games if they are not busy. The space is shared hallway so that sometimes puts a damper on trying.
They do know tea and if you order it, there is a proper pot in cozy put out for you, as well as MILK and sugar cubes with tongs.
They also do old style hot chocolate, with cocoa powder, hot water, and in a proper pot. Honey is provided for the sweetening, of course.
A Taste of the Draggonne
(Mandarin and Szechwan)
*no dragons were harmed or will be harmed
Chinese and has takeout.
Definitely spicy and tastebud challenging food.
Has a limited alcohol menu to go along with the food but most would point out you don't need it with the food.
They also do takeout and advance orders are welcome. They know all the Royals but lunch is usually their busiest time.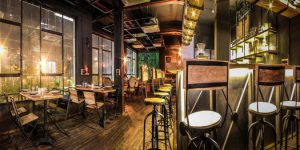 Three Pence and a Farthing Bicycle
More hipster and serves upscale food. No deconstructed though. Serves brew and wine.
Seriously if you have a large appetite this place won't deal with it. The food is very good but is the usual several choice bits on a large artisanal plate with stuff drizzled across the plate for presentation.
Helgrams frequent this place a lot. If you are a High Royal you will get seating though no matter how bad the crowd backup is.
Their wine and beer selection is fair, and they have limited bar capability. (Long Island Tea's and such mostly)
You can enter either the inside or the outside areas from the street. There is service outside.
The Town Pump
Burgers, dogs, fries, sorta pizza, fish fillets/sticks. Family oriented. *(Sorta Pizza=naan bread spread with sauce, topped, and grilled)
Has beer, ale, wine, by the bottle. The wine is corked but in beer sized bottles, custom bottled. The wine is fairly decent.
More of an old fashioned 60's diner or truck stop with a short order cook making stuff to order. Does a fair amount of business considering everything else around it competes with.
No outside area. Smells of clean grill, fresh coffee, and not the usual greasy spoon smell.
Veggie Bin
Vegan fare, not vegetarian. Does a pretty good job of it. All food is made fresh daily and often to order.
Has gluten free, just need to ask.
Has gluten free alcohol. Fairly limited booze list.
A few wines and a few beers. Does Chai and Green Tea though, and also have Matcha. They do smoothies to order.
Indoor seating only but large large windows and lots of plants in the main dining area.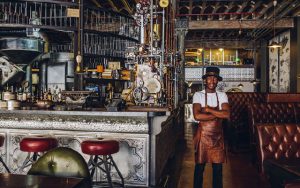 Finkfinster's
Jazz bar, lots of live music.
Semi hipster menu, but they can sear a good steak and do righteous fried chicken-skin on, and all the trimmings.
They have three kinds of very good beer from their microbrewery on tap. Full bar, don't expect the wine or booze to be too old or rarer though.
Almost every night is music, a lot is impromptu jamming. Even if the band was hired, after set is over they will often hang and jam with whoever else is around.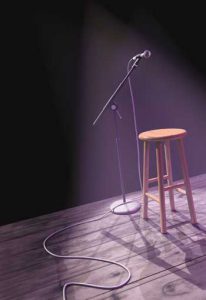 Starlight Vocal Night
Known for open mike and new groups. Does a more japanese sushi (one night) and generally Asian foods.
The décor is more upscale hipster though.
There is no outside seating area but one can do a lot of people watching in the main dining room because of the large windows.
Does have a pretty good wine and booze list.
On sushi night they do not have open mike, the other nights usually after 8 they turn it on and the entertainment begins. They CAN and have turned off the mike and spot to get someone off the mike. If there is too much trouble with you (either booed into oblivion too often or you cause a fight) you might be ejected and banned.
The staff knows all the High Royals and that will help get a table during busy times.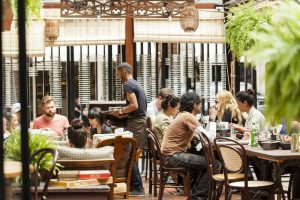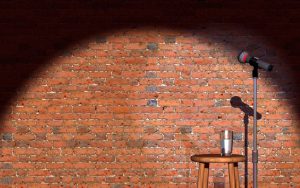 Tuna Hour
Comedians and open mike. Three nights a week have established comedians doing their performance. Three nights a week is open, and it's asked that you do comedy if you do sit the mike.
Upscale foods, nothing deconstructed. They don't do steaks, or fried chicken. They do make some very good sandwiches.
Limited booze, does wine and beer mostly, and a few waters.
The Main Dining area is actually an open courtyard. They have some awnings to cover about half the tables if it rains. The mike end is under an overhang so it usually stays dry. Hanging lights come on near dark to illuminate things.
Other notes….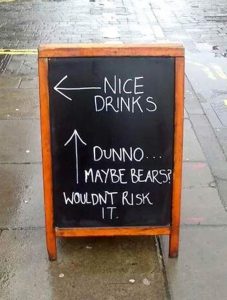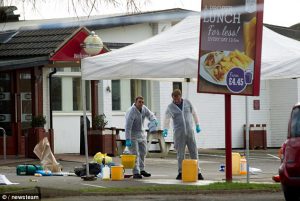 A few things seen and posted to social media by visitors to the zone.
The one on the left happened mid-summer, apparently a few Helgrams got in a spat with some Jesby retainers who were visiting and decided to lunch at the same pub.
Right, was seen recently outside one of the bars. There was a special being run on Polar Bear Cocktails (one ounce Crème de Cacao liqueur and one ounce peppermint schnapps, shaken and served in a small shots glass over ice) at the time, as well as one on Mimosa's.
No bears were hurt, hunted or danced for; the bar reassures everyone….
Note: The Bear Dance is outlawed in Belize, at the very minimum you will be immediately deported and banned from returning for one year.
Shopping
Alfred's Market
Greengrocer, has a lot of different fruits and veggies in open air type market next to the brick and mortar building. (Fenced in, with awnings and some magic for the worst of weather control)
One can enter from the street directly into the open air area. In the Brick and Mortar building is canned and preserved shelved items, the rest rooms, etc. In case of issue, this is where one can shelter safely.
Most of the food for sale is grown in the Matthewsburg/Antillan Railway Zone, so indeed very fresh. Most of it is totally organically grown.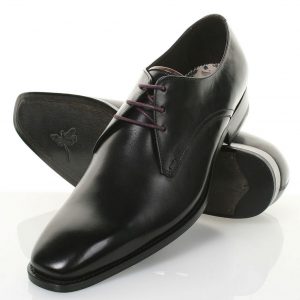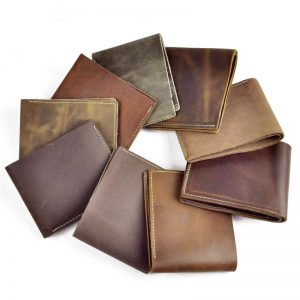 Bacy and Parr
Men's suits and leather goods. (wallets, belts, shoes)
Fairly conservative shop in lines of merchandise carried.
If you buy the suit from them, it has lifetime retailoring to fit (within reason, if it's worn out it's worn out).
They know black, navy pinstripe type suits and PC ties. The staff are all male and they all can tie a tie in nothing flat and often do it on request by anyone stopping in. One fellow knows about thirty different ways to tie a tie, so can do fancy as the situation demands.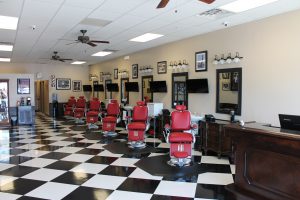 Bart's
Barber. Six chairs no waiting, usually. They do hot towel shaves.
They have one lady barber and she is good at the modern mousse avant garde hairstyles, or a good yuppie Helgram scalping. One of the male barbers can also do a yuppie 'do.
The rest are more traditional styling and one has the specialty of the hot towel shave, which is a real treat. He can also give straight razor cuts and you can trust your throat.
They have evening hours so those that work a 9-5 can get trimmed up as well. No appointments, it is walk in and wait your turn.
They are NOT chiurgeons, no bloodletting except a rare miss. Outside they do have a traditional red and white striped barber pole. Inside they do have a sign that the barbers are NOT a barbshop quartet. Please do not ask and please do not ask them to sing.
Prices are quite reasonable, there are tip jars but that is not required… though giving your barber a tip will make for extra care next time so a modest tip of a dollar still makes the prices quite reasonable.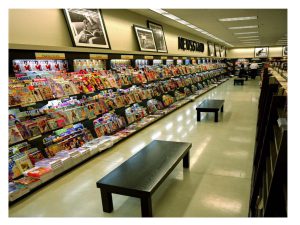 Ben's Book Bin
Books of all kinds, magazines and daily papers. Has anti-magic throughout the store. No copying.
They do not deal in rare or used books. They do sell comic books imported and local.
If you damage it, you bought it. Acts of Family don't get you off.
If you read for more than three hours with one item they will ask you to either buy  or leave. The library is down that way, this IS a store selling print copy.
Sign was out on the pedestrian way recently and caught by some tourist passing by. They do occasionally use an A sign and can get quite humorous.
They do not sell food or drink and ask that none be brought in. You can surrender stuff on the way in and reclaim it on the way out.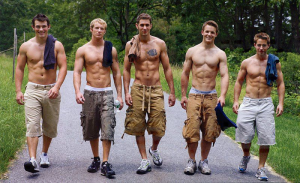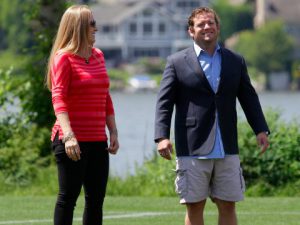 Benton and Hewett, LTD
Upscale more hipster clothing. Carry cargo shorts and polo shirts, and button cardigans. Mostly male.
They do require patrons to have on shoes, shirt, and middle coverage too. Unlike their ads.
The can even fit Timmy.
Buy ten of anything and get one free (pay for 9). Must be like items. Cheapest item is free. No coupons or other discounts. They will custom order if they don't have the size/color in stock. They will tailor anything purchased there except clearance rack. There is rarely anything on the clearance rack.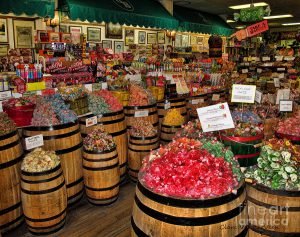 Big Rock Candy Mountain
Homemade chocolates and hard candies. To go only.
They sell by the piece (hard candy), by the pound or kilo, and by bulk packaged.
The chocolate is weighed and sold by weight. Some packages are pre-made up with various sorts or selection and ready for purchase.
No eating before buying, though ASK and they will cut or give a few samples. Note few. (as long as you are buying that will affect how many samples you get).
They make various fudges and sell those by weight as well.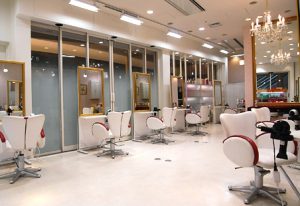 Cora's House Of Beauty
Hairdresser, facials, pedicures, manicures.
They do makeup and nails, waxing, and electrolysis.
Full service, appointments are suggested and forget about being a Friday anything. There are standing Friday appointments and a very long waiting list to get one.
They do men too, there are more than a few that come in for the basic pedicure (skip the polish definitely). They have fungal soaks and can treat soldier's feet. They are experts at excising ingrown toenails.
Most times there will be walkin space available except for Friday. Unless you want a head-to-toe (hair cut, color, perm; facial; wax; manicure; pedicure).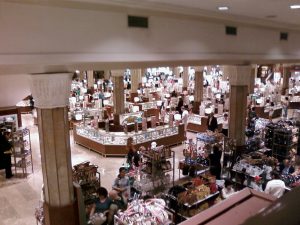 Dillingham's
Equivalent of a department store, several stories tall and a subbasement with parking ramp.
Carries all sorts of things, better quality than Target or similar.
They have a concierge service, be a titanium card member (card is made of titanium) and it is free. One can sit in a salon and eat smoked salmon and the like, drink fairly good booze, and have someone shop for you.
If you want clothes they are brought to you by your personal shopper. Most High Royals have or can qualify for a titanium card.
Eddington Shelf
Bookstore, carries more mainstream stuff. Likely to have overprints in the discount bin.
Deal in used books but usually they don't see anything old or rare, contemporary printage and a lot of paperbacks.
Once a year during the nice summer they take the side alley over and have a huge clearance sale of slow sellers, sendback stock, gently preowned, and print overruns. 20-90% off. So the 9 Day Cobweb Sale is usually the first full week of August.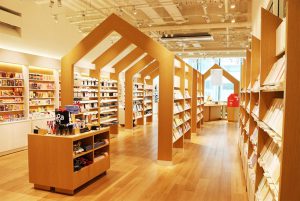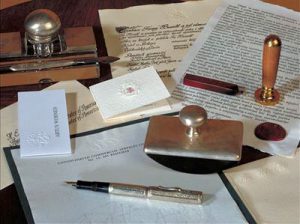 Focham
True stationery shop, does engraved invites and such too.
Main floor is more DIY and eclectic, including stamps, stamppads, stickers, and fun papers.
Upstairs in the loft is where wedding invitations and other more traditional stationery needs are addressed.
They offer full services to outfit anyone with paper, ink, print goods, engraved invitations, etc. They also can have material sent out for bookbinding.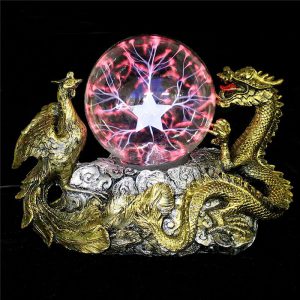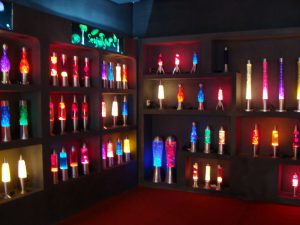 Forsooth
Eclectic upscale junque shop.
Very popular for techie-geeky toys. They sell a lot of K'nects too and stuff like that.
There are also some steampunky items, weird funky jewelry, and goth stuff.
All items are tagged with color coding. This deals with the tech/magic/either designation. Some items can be had in either tech or magic format, some will work only as tech or magic and don't cross the boundaries.
They do not take returns as a lot of customers despite being repeatedly warned will take an item into an area where it won't work then wonder why it doesn't. All clerks will be happy to help the customer find what will work where they intend to use it.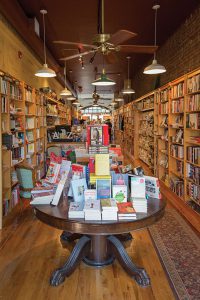 Gently Preowned Tomes
Second hand book store. A few new things, but mostly old tomes.
Front has old mundane books. IF you ask AND you can pass a magic ability test (only the old owner can administer it) they will escort you to the Old and Rare Room in the back. You will have an attendant the entire time and some stuff is locked away in bookcases. There is serious security on this room and on the locked cases. They accept vetted letters of credit, or certain credit cards, or cash, valuables, or trade for other rare books.
In general, though, there is an overlying antimagic-no copying-guards and wards built in. The locked magical tomes especially. You can NOT fire any sort of copying or duplicating magic. If you try to break the magic or complain, they will ask you to leave. And you may be barred for a while or permanently.
Coming back to raid or after hours, there are some considerable defenses on the place plus guards. Local authorities will back up the shop. Prince Patrick and Family are patrons of the place so it would be a very dim view if something happened.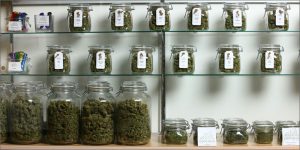 Gulliver
Tobacco shop, also sells good bud.
Walk in humidor with airlock, holds cigars. An employee has to let you in and will enter to assist youCigarettes, loose pipe, loose roll-your-own, snoose and snuff are in cases in the main shop.
To one side in a sort of alcove, is the bud counter. A small amount is legal in the Matthewsburg zone, outside of the rail inner corridor (where the security is tight (refer to a United States airport past TSA) ) to possess or use. Most public areas are off limits, there are a few places that have rooms, lounges, or gardens for those that wish to smoke or ingest. There are various preparation including edibles, oils, extracts, powders, pills, pre-rolled, and loose. You will have to give forth identification and you can only buy so much within a certain length of time.
Medical is legal in Matthewsburg, if you are medical you will have a card and will have to show it to purchase or if law enforcement requires you to.
A small amount is legal in the Zone.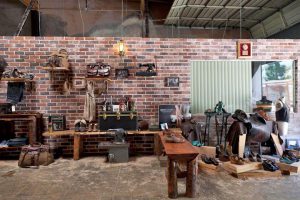 Hendersons
Carry almost anything leather. Can do custom work or have it sent out. Yes they can handle custom tanning and unusual hides. They will not handle dragon hides.
By the main register is a small brass plaque saying they are patronized by the Royal Family.
They do have a line of Prince leather goods, that include for women (Prince(ess) line).
They handle saddle and harness work as well. See 'The Side Room' for all of that sort of stuff. They can and will ship anywhere the Antilla Rail line goes.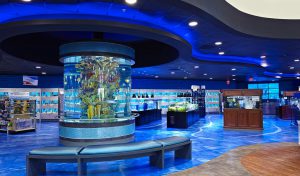 Ilmer's Wag N Fin
Pet store, mostly supplies.
They do not handle dragon supplies other than tiny dragon or dragonlet goods for non-fully sentient companions. They can refer for sentients.
They do a good deal of fish and aquarium, including building and installing custom tanks.
They do custom perches and animal furniture, do inquire.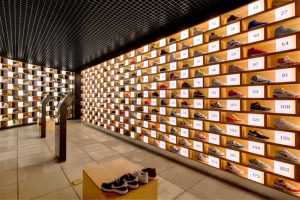 Immi Footwear
Daily wear for the average citizen, mostly women's and children's.
The front showroom is the fashion footwear, the side/back room is more of a warehouse of simple affordably priced daily wear for the average person or demon.
Friendly helpful staff can fit the customer, help them locate the correct size, and determine if the product will hold up and last for where the person is going to wear the item.
They do not do returns or refunds because of trans-shadow issues. The staff is very knowledgable and has reference charts for what should work where, but. It is not their fault if your pleather melts in that shadow.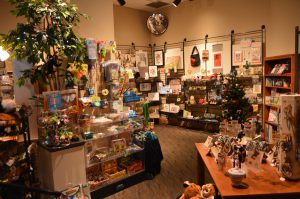 Inkblot
Upscale hip funky stationery store.
They sell hip trendy accessories, little trinkets and decorative items, and fun stationery including stamps and embellishments (scrapbookers like to frequent here for stuff)
Staff is knowledgeable about what will work where in the areas services by the Antilla Rail system. They are another store that will not take returns or refunds if something changes about it in the destination shadow.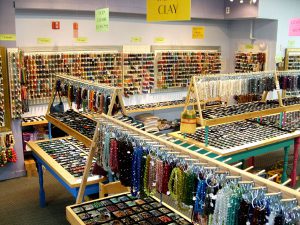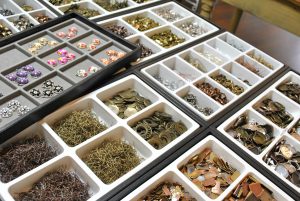 Jayz Beadz
Serious hardcore beadshop, from seed beads to hand made.
Also carry supplies such as stringing material, crimps, glues and epoxies, jewelry findings.
They do not allow food on the shopfloor or drinks, and bags and coats have to be checked. There is an alcove where you can get coffee, tea, juice, and some fruit or light sandwiches. They are used to customers spending hours in the store. There are padded low back rolling stools to use to zip around with your compartmented tray as you shop.  They do wholesale, 35% off, minimum order, and must have business license on file with them.
They do teach classes.
Kevin's Armory
Armor, weapons. Several different tech levels. They can work Mithril, but not red, black, or white metal. They do not have Mithril on hand.
Their main emphasis is on medieval armor and weaponry, say pre 1500's. They carry limited stuff up to Kevlar, carbon fiber and composite, and reflec armor. Weaponry is also a little limited up into modern contemporary Earth.
They DO NOT have nor can they get Pink Gunpowder. Do Not Ask!
Absolutely no returns or refunds, all sales final. They have the reference book for all the places the Antilla Rail line services, but it is up to the purchaser if the goods will work as intended in the place they are taken to.
Metal smithing and forge work is sent out. Some of the staff do 'knit chain maille' to make jewelry.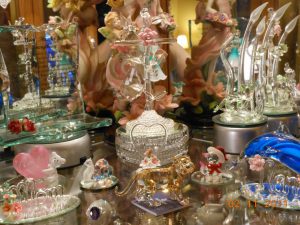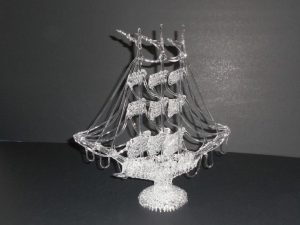 Leda's Wishing Fountain
Glassblower. Makes goblets, plates, marbles, and the spun glass looking stuff (humming birds, wishing wells, masted ships, rearing unicorns, etc).
Is not heavy duty in making plates, slumped glass, goblets, etc. She has a friend that can and will refer if someone wants custom work.
She does not handle cut glass and again has someone she can refer to.
She does not do  stained glass, once more, she refers all queries about that to someone else. She is mostly a spun glass artist and makes the delicate small items for sale as shown. She can securely box and wrap up purchases. Nothing is magicked though, but the purchaser may want to do that to prevent breakage.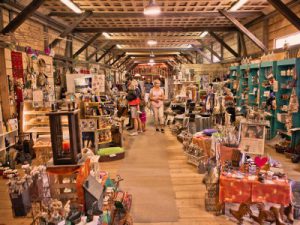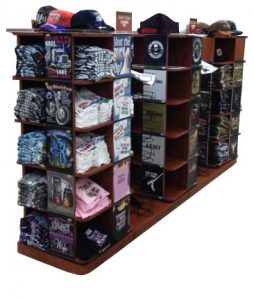 Luna Station
Duty free shop for goods that look low tech but will work in high tech or lightly magical areas; also the place to buy teeshirts and other stuff to commemorate your visit.
They carry a few of the most mainline souvenirs for Old Saigon and the Tank Adventures in case you decided you need more.
They also carry a lot of alcohols available that are made locally, in approved sizes, bottles, and packaging. Just indicate where you are taking the purchase and they will help you select what is approved for transport across that border.
The alcohol is off-sale only, no breaking a seal or consuming on premises.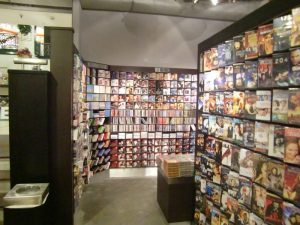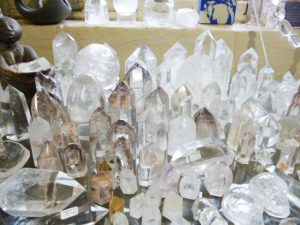 May-rae-bon
CD's, DVD's, Crystals, digital. Tech and magical music as well as videos.
Just ask, some things haven't been converted from Tech to Crystal yet, and some will be transcribed while you wait, it mostly has to do with licensing and who is on duty that day.
Some of the staff are fluent in magic and have the right to defend themselves, the property, and the merchandise, by law.
Copy magic other than items taken into a special copy booth, will not work in the store nor anything within the store if tried from outside.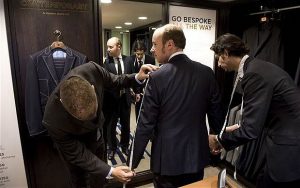 Oliver
Men's fine clothes and haberdashery.
Custom order is their specialty. They have tailors on staff to make sure that the suits fit perfectly. They will also tailor other clothes that they carry to fit.
Expect 3-6 weeks and at least two fittings plus being measured for the final suit and accessories to be prepared.
Wide selection of fabrics. Customer can supply their own.
They also do a limited number of robes and pyjamas as well.
Magic null premises. As in you will not cast or activate most magic in the store. It saves the merchandise and prevents spats. Those can be moved to the street if so needed.
By the main register is a small brass plaque indicating patronage by Princes Patrick and Ryan.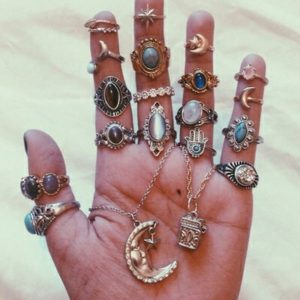 Ratatan
Yuppie/hipster shop, both sexes.
They allow clove cigarettes (no vaping) and herbal tea that they brew often.
Once a month Viviene is there to do acrylics and doesn't take appointments so you will be lucky to get her to do your nails.
Thursday nights they do stay open until 11, 3 hours later, and after 7 have poetry readings. For that they bring in vegan and gluten free snacks and serve coffee and wine. One fee covers you for the whole evening, just make sure to leave your band bracelet on.
A lot of the clothes are made by local up and coming designers, so some very unique pieces. Most of them cut to a size 14 or smaller so people like Carol they won't let in the fitting room. And If You Damage It You Just Bought It. So no whipping off your shirt in the aisle and cramming it anyways.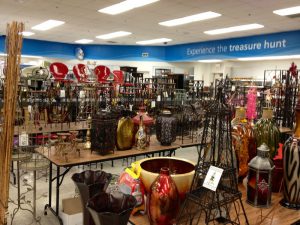 Ross
Brand name but often irregulars or seconds. Some real bargains can be found. Mostly clothing, shoes, housewares and decorative items.
Buy it if you like it because it may never ever be seen again.
Buyer beware, all sales are final. No warranty, no returns, no refunds.
Mostly middle and lower class customers will frequent this sort of place.
They sell cleaning products but no food.
Rue Takenoki Shoppe
Drag Queen Shop. Period. Carries larger sizes especially shoes. If you are tall and large you are in luck.
On select Saturday afternoons in the back, they have makeup lessons you can sign up for. Or have someone do your makeup for the evening for reasonable.
Ladies that have large feet often shop here as they carry the larger sizes. Yes they can often fit a size 18W foot.
They carry literally EVERYTHING you could need.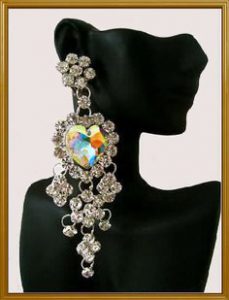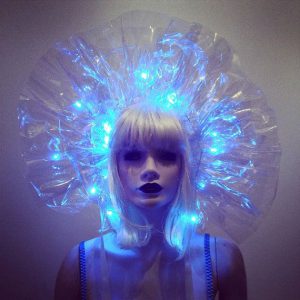 On Tuesdays they do pedicures and acrylics and anyone is welcome. Wait for an opening, no reservations.
They truly have really great and unique stuff. One can spend hours and go majorly into debt here.
They also have concierge service, for a fee, and will fit you with everything you want and need. Fee is based on how much you buy during/afterwards.
Once a month they hold 'Virgin Night'. Those that have never dressed up before, can come, borrow gear (donated by others and the shoppe) be painted, and go for the evening sashay up and down the boulevard. A few bars and restaurants may be visited but overall it's just an excuse to sashay all dolled up. You're just required to bring the stuff loaned back to the shoppe in the morning.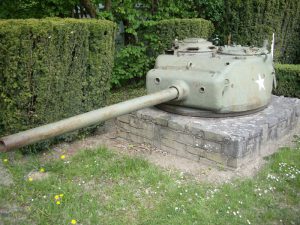 Saigon Corner
Duty free shop of local foodstuffs and merchandise to take offsystem. Carries a lot of the things available in Old Saigon.
Has a few backgrounds for souvenir photos or crystals. The tank top (turret) does cost a little to get to sit in it and get your picture taken. If you use the supplied stand your picture will come out angled so it looks like the whole tank is there. They can also offer a few props such as flak vests, helmets, a binoculars and a field brick phone to take your picture with. The staff can operate almost any imaging device. For a a fee they can take and print or crystal your souvenir picture for you with a professional rig.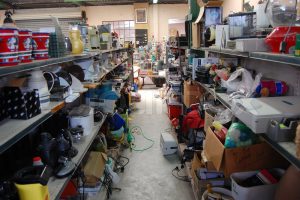 Secondhand
Thrift store, gently preowned, almost anything.
They sort for magical items and those get brokered straight to someone else.
They do not keep anything with a magical dweomer that is not 'normal' and that stuff is segregated so buyers know if the stuff will work in a magical area or not. They don't get very much of that ever.
Everything is 'as is' 'buyer beware' and 'no returns or refunds'. No dressing rooms.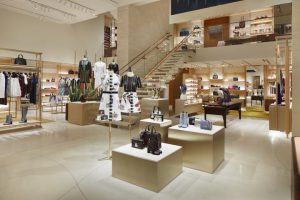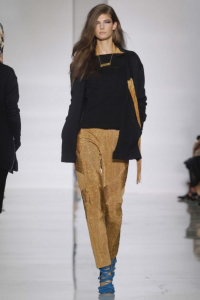 Tweberry
Professional lady upscale designer shop. They can not fit anyone over a size 14. They have an on staff security to help remove people like Carol quietly, politely, and firmly if needed if she goes for the clothing.
They are a full range shop with accessories and shoes all designer seasonal.
They have personal stylists who can also arrange a full custom fitting on any of the clothing. A few on the rack behind the counter are one of a kind originals. Those do come with a custom fitting.
There are magic-null wards on the shop. You will not be able to cast a lot of magics inside the store. It helps a lot with keeping collateral damage down and stock merchandise safe. There is a sign to warn about that at the door. No food or drink is allowed into the store.

Vir (or Vir's)
Ironworker. Pots, hooks, tripods, trivets, and weapons.
What is called a blacksmith except they don't shoe horses.
Their items are well made but are not enchantable quality.
The front has stock items  for sale. If you want a custom you get to go back to talk to one of the two brothers at the forge over what you want.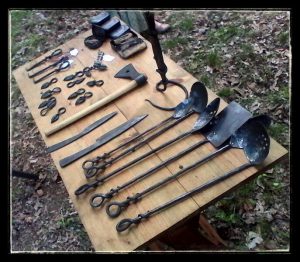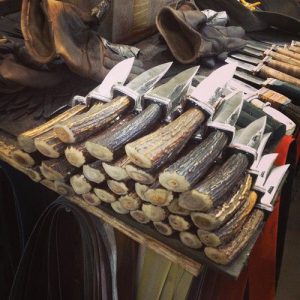 Their stuff is in demand.
Left is  small selection of the items ready-made for sale in the front room. They also make hinges, trivets, fireplace tools, decorative wall art, candleholders, balcony and stair rails, gates…
To the right is a small selection of the blades they make. These are eating or table blades. They also make 2 to 4 tined forks, spoons, etc.
They cannot work any of the exotic metals, such as Mithril. They will refer anyone looking for that sort of work. They do not repair armor. The elder brother will state that neither has had training in such.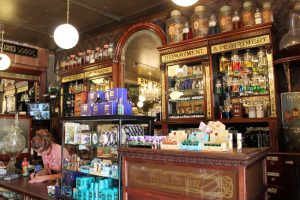 Wenegers
Apothecary in the British style. May have some magic components.
A true compounding apothecary, a maternal great grandson is currently working as the head apothecary, hence the name change from Rose to Weneger.
They are used to making some pretty strange things. If the customer brings in materials, provides the recipe, and signs the waiver, they will do a custom compound. They will not willingly compound a poison though a few things used in regular work might be considered such.
Does not deal in dragon parts or Victor Crude.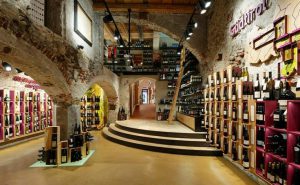 Willingham and Rye
Liquor store, upscale. Know their wine, and sell good hard liquor.
There is a basement cellar, two part, for most of the wine and best liquor. Their two best items in stock is 1 bottle of 1802 Napoleonic Brandy; and 12 bottles of 1792 Madeira, well locked away.
They do not have Oberonic wines or spirits, the 1792 and 1802 are the oldest they have. They do deal in fine wines but they can't afford the really old stuff. They sometimes broker for someone so it doesn't hurt to inquire.
For all of the below, see Lodging and Entertainment on another page.
Alton Ski Slopes
Grenville Lodge
Dew Drop Inn
Nottington Motel
Beaverly's Rest Stop
Xavier Hills Resort
Queen Jasra Hospital (it's Patrick's mum)
Pentultimate Theater (movie theater, five sided)
Jellico Theater (opera/stage)
Matthewsburg Police Station #3
Matthewsburg Fire Department Station #8
Matthewsburg Public Library Philae Street Branch