Eldest son of Ian Hawke. He recently inherited all of Ian's lands, and many of his titles, in Amber.
Grandson to Bleys of Amber, Great Grandson of Brand.
Trump Description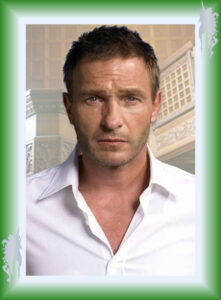 At times past, Wolf has looked slightly older than his biological father, through various quirks of fate, although how much older seemed to vary on his mood. Currently, however, they appear more of an age with each other than they have for many years. Wolf stands about 5'11", is solidly built – with  muscle rather than fat – and it's obvious that he regularly works out. He has dark blond/light brown hair, cut short to his ears in a semi-military cut, and sometimes wears a light beard, or more likely a dark five o'clock shadow. Beneath this, his features are well-defined – chiseled even – and he looks out at the world through clear blue eyes which give the impression of having seen more than his apparent age would suggest.
He is pictured with a carved wooden staircase beside him, obviously the grand staircase in an old manor house. He is looking directly at the artist, as if surveying him or taking his measure. He is wearing white open-necked white shirt and dark cotton trousers, and appears unarmed.
Astral Form
Wolf's astral form harks back to his original upbringing and appearance. His hair is more blonde, his eyes are as clear and blue as ever, and the bearing is decidedly military. He is dressed in clothing which is obviously based on a uniform, although it has no identifiable insignia. There is a sword at his left side and a dagger hangs on the opposite side.
Known Capabilities
From his involvement in the recent attack on Rebma, in response to their support for the usurper Random, it has become apparent that Wolf is an experienced ritual mage, well used to working with his father in that capacity. This dragged him into all sorts of trouble later on Germania, when he was involved in the destruction of Random's Army.
He also acquitted himself well in the physical fighting in the Rebman Citadel and later Random's Keep in the Amber Islands, and Rotberg keep, although he prefers front-line combat to commanding troops.
It has also become more apparent that he has been studying the Pattern with Fiona, and now has better than average competence with it.
He has proven an able administrator as Harbour Master of the Amber Docks.
Titles and Distinctions
Prince of Amber
Duke of Harminshire, Marquis of Emmery Island and holder of the Barony of Chippenham
Admiral of the Amber Merchant Marine and Harbour Master of Amber
Knight Commander of the Order of the Unicorn
Commander of the Order of the Jewel of Judgement
Commander of the Order of King Oberon
He also holds the rank of Lt General in the Royal Amber Army, and his Trump is in the Family deck.
Prince of Brandenburg
Keeper of the Triskelion
Count Palatine of Helgram
Member of the Lion Legion of Mercy (Helgram honour)
Grand Commander of the Order of Dara
Landgraf von Geslau and Knight of the Order of the Black Eagle, Germania
He is also officially Ian's heir on Tenterden, and has formally inherited his his father's  lands and estates in Amber.
Known Family
On his father's side, he is the grandson of Bleys of Amber and Swayvanna of Chaos. On his mother's, he is the great-grandson of Brand and grandson of Dieter of Germania.
He is widowed, having married back on Tenterden but lost his mortal wife to cancer. However, he has been seen at formal events with a woman named Katharine Heisel, and from their body language, it's obvious that they are in some kind of relationship.
At the recent funeral of his Aunt Melanie, and his nephew Kaylen, son of Geran, he learned that he has as many as seven sons. He has a close relationship with three of them: Armand Becker, now a Lt General in the Amber Army and a Gruppenführer in the  Waffen-SS on  Germania, and his only legitimised child; and the twins, Soren  and Blaine, Katherine's sons. All three are in the Family deck.
He is also getting to know Sir Chad Winkler and his family.
Wolf's Rooms in Amber
Wolf is still settling into Amber but his rooms are acquiring more personal touches as he spends more time there. He originally had rooms in the North-West Wing, but he now has quarters in the Main Castle, from his brief stint as Crown Prince of Amber. Throughout the suite, the carpet is a rich hunter green, but the walls have been left as unpainted stone. There are tapestries (to hide the chill) and paintings (to brighten the place up) are beginning to appear around the room, which have less of an "Amber stores" feel. He seems to favour landscapes in the main lounge. The furniture he's selected is mostly leather and wood, mainly in brown and black.
In the main lounge, there are four button-backed leather wing chairs beside the fireplace, two each side of a glass coffee table in the centre. Off to one side is a small wooden dining table with two leather-upholstered wooden chairs, and there is an occasional table over by the window, flanked by two more chairs matching the dining suite. There is a wooden decanter case on this side table, the lid open, to reveal two cut glass decanters, one of Balvenie Double Wood, the other of Janneau Armagnac. Also on the table are three framed photographs: one of a beautiful blond woman with a boy of about eight or nine; one of a pair of teenage boys, one of them obviously an older version of the child in the first picture; and the third of Ian and his wife Marina, Wolf, Armand and Artur. There's also a small drinks cabinet at the side of the room near the bedroom door.
Hung above the fireplace is a piece done in oils, about 3ft by 2ft, which shows two men in something akin to Amber court dress, riding in a young, broad leafed forest. The light indicates summer. The faces aren't clearly identifiable, but there is something familiar about them. A cross-hilt broadsword, in its scabbard, is hung on a hook near the door.
Off the lounge are doors into his office and bedrooms. The office is functional rather than comfortable, with a well made, wooden desk; three brown leather chairs – one behind the desk one in front, and one against the wall. The bookcases are increasing in number, with titles predominantly on forensics, military history and methods from a variety of Shadows, harbour management and some books on the occult. However, there are also a couple of shelves of science fiction. There are a couple more photos in here: a family photograph of Wolf with a woman and child; and one of him and his father, dressed for hunting on a snowy day. The picture over the fireplace is a modern, highly detailed Celtic knot design, which looks as if it could be used as a focus for meditation; and there is a locked, carved rosewood box on the top of the bookshelf, maybe 2ft x 1ft x 8in.
Wolf's bedroom contains a double bed with a wooden frame, a small wooden vanity unit to the right of it, and a dressing table with one large drawer across the top, and two others either side of the central foot well. There is a triple mirror on the glass-covered surface. In front of it is a wooden chair with a leather upholstered seat. The closet is filling up, as he spends more time in Amber, and the predominant colours of the clothes are greys, blues and reds. There is also has a somewhat smaller second bedroom, in case he wants personal guests.
He shares his quarters with a small black and white cat named Ava, who he seems to have brought from Tenterden. She is occasionally seen around the Castle, but generally tries to keep out of the way of marauding Family members.
Other Residences
Chippenham Castle, seat of the Barony of Chippenham, Amber Continent
His primary residence is in the Bayswater area of London, on the world of Tenterden.
He also has full access to Wittersham House, Ian's family estate, and has estates of his own in both Germania, and on the world of Dominion.
==
Further information about Wolf (including the inevitable background stories) can be found on his character site.