About the group
The original Eagle Vineyard was founded in the Red Hills of Dundee in 1965 by ex-pat Californians David and Diana Leckie, who visited Oregon for their honeymoon and never left. Instead, they bought some land in the Willamette Valley, and planted some of the first Pinot Noir, Pinot Gris and Chardonnay vines in the state. David is from an old Californian winemaking family, and brought their expertise north when they established the Eyrie Winery.
Over the years, David and Diana planted a number of different varietals, as well as the Oregon standards, including Cabernet Sauvignon, Merlot, Pinot Meunier and Zinfandel in the reds, and  Muscat, Viognier and Riesling in the whites. David became a very well-respected winemaker, with a reputation for producing consistent, excellent vintages, as well as some more interesting blends. His wife, Diana, handled the business side of things, as well as developing an interest in improving the visitor facilities at the vineyard. The McMinneville tasting room was also her brainchild.
Their son, Jacob, grew up at the vineyard, and worked there in the summers. After a university education at Stanford, including an MBA, he formally joined the business in 2005, when Diana stepped back to concentrate on devloping the hospitality side of the business. Since then, he has attended the Napa Valley Wine Academy, taking the WSET  and SWE (Society of Wine Educators) certifications as a winemaker and educator. David passed day-to-day control of the operations of the company to his son in 2008, but continued as the main winemaker until 2011, when Jacob felt confident to take over that responsibility.
Eyrie Winery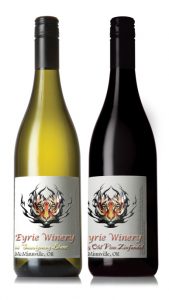 The Eyrie Winery is headquartered in McMinneville, Oregon, on Antilla.
With stunning views of Mount Hood, one of Oregon's best known landmarks, our vineyards are located in the glorious Willamette Valley. We grow a variety of grapes.
Our popular, informal drop-in tasting room is conveniently situated in the centre of McMinneville, where it shares the first floor of the Hotel Oregon with a restaurant and bar, as well as a common room for guests of the hotel.
Visit our vineyard, located just off Route 99W, about three miles outside Dundee, to see where the winemaking magic happens. Enjoy a more formal tasting at our onsite tasting room, or a gourmet meal at our Michelin-starred Eyrie Restaurant; or, for the drivers among you, our Eyrie Coffee Bar also includes a coffee roastery.
For more information about our winemaking, take our special tour of the winery facilities.
While visiting our vineyard, make sure to take in our Raptor Rescue Centre, or take a ride around the site on our friendly horses.
For visitors wanting to tour Oregon wine country, the Hotel Oregon is also conveniently located in McMinneville. Or, for a more exclusive experience, spend a couple of days at our Eagle's Eyrie, boutique hotel, out at the vineyard.
Our wines
*** Breaking News: We are please to announce that our Eyrie Winery Old Vine Zinfandel, 2015 was just awarded the Gold Medal at this year's Thelbane Sommelier Conference ***
Mound Hood Winery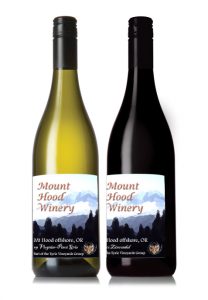 The Mount Hood Winery, located in Oregon Offshore, Thelbane. This is our newer, more experimental winery, where our Winemakers have the opportunity to investigate different terroirs and climate conditions. Mount Hood wines are grown in soils with good volcanic notes and minerality.
At this time, the Mount Hood Winery is not open to the public, but our first vintages are available to taste at both our McMinneville and Winery tasting rooms.
Our winemakers
Jacob Leckie
Our primary winemaker is Jax Leckie, who is well-known both in the Oregon wine industry as an innovator and professional wine educator. He took over the Eyrie Winery from his father, David Leckie, in 2008. His wines push the boat out somewhat, and are now becoming known beyond just Oregon and Antilla. He splits his time between the Eyrie and Mount Hood Wineries. He recently married, and his new wife is being introduced to the joy of wines and their development.
David Leckie
David is semi-retired, although he does still oversee the Eagle Vineyards when Jax is away, and occasionally keeps his hand in with a special vintage.
Madelaine DuBois
Madelaine joined the Eyrie Vineyards group in 2016, as assistant winemaker to Jax and David. She comes from a French winemaking family, based in the Loire Valley, is WSET educated, and as well as helping with the winemaking, she also conducts some of our Gourmet Tasting evenings.