The Fountain Circle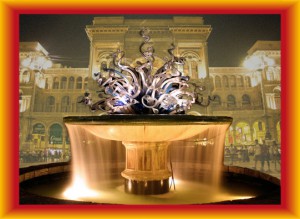 In the very centre of the Zócalo Plaza is the Glass Fountain, a stone and glass sculpture/water feature with a 10ft splash pool around it, in a roughly clover shape. It is at the middle of a 60-yard diameter circle, which is paved in what looks like red, white and gold marbled glass, rather than stone. However, the surface has an anti-slip quality which means that it is perfectly safe in wet weather. There are small groups of benches scattered around in the fountain, along with stands selling snacks and drinks. The outer edge is marked out in a double line of cobblestones. The Fountain Circle is always busy, and is the central meeting place for visitors who aren't too sure of their bearings.
Restaurants and Bars
Bill Woz a Wuss
Bill's, as it's usually called, is entered down a stairway, beside one of the stand-alone café buildings to the south-east edge of the Zócalo Plaza. It is part Bierkeller (emphasis on the keller), part nightclub, part music hall, although if you look hard enough, it's far less run down than might be expected for a place of its time, as if most of what you see is the facade it wants to project. It's loud, somewhat smokey (not all tobacco), usually busy, and has a very vibrant atmosphere. The population is pretty evenly split between human and demon-formed. The drinks are good and the food is better, but the company can be colourful. However, it's a good place to be relatively unnoticed.
The Breakfast Club
The Breakfast Club is an American-diner style restaurant circa the 1950s, which pretty much serves what it says on the tin. It offers breakfast in a variety of forms from a variety of worlds across Shadow, and also does a good line in "pie". It is open from about four thirty in the morning, through to mid-afternoon. Specialities include the Full Chaos, a selection of breakfast staples from the Thelbane end of the universe; the Full Amber, for those who are more flexibly challenged (everything is cooked); and the Black Zone Special, which is something of a mixture of Chaos and Amber cuisine.
The Eye of Ra Café
The Eye of Ra is a typical coffee shop come diner, with basic fixtures and fittings made of wood and chrome. It specialises in home cooked fast food, and anyone with a cholesterol problem would probably do to go somewhere else. There was a recent incident which involved a number of broken tables and a lot of cable ties. However, it is usually a fairly safe place to visit for those looking for somewhere quiet to have a coffee.
The Counting House
The Counting House is located in one of the standalone buildings to the east of the Plaza Major. The ground floor is a busy bar, decorated in wood and glass, with both tables and chairs, and also small nooks with comfy settees.  It serves decent beer and pub food. There is also a mezzanine level round three sides at the first floor level,  which serves food that's more "gastro-pub" in nature, including a fine selections of pies with fillings from both ends of the multiverse. There is also a downstairs bar, the Blackbirds, with vaulted ceilings and a small stage. This hosts live music most evenings, and a comedy club on Friday nights.