AKA Ian Swayville Helgram Barriman, Ian Michael Cushing.
Not quite as estranged as he was eldest living son of King Bleys of Amber, and Grand Duke Helgram.
Trump Description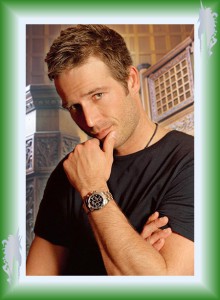 Ian currently looks to be in his late thirties, a little older than when he first came to Amber. He stands around 6'0", and is lithe rather than muscular, looking as if he keeps himself fit. He has somewhat boyish good looks, although the effect is often lost under a slight case of four o'clock shadow, and nowadays he comes across as a little older than he used to. His hair is cut fairly short, receding slightly above the temples, and is light brown with distinct auburn tints, harking back to his father's legacy as one of the "redheads". He has hazel eyes.
For his more informal family Trump, he is pictured standing at the foot of an ornate staircase, beautifully carved with what looks like some kind of leaf and flower motif. The panelling above the steps suggests some kind of olde worlde stately home. He is dressed simply, in jeans and a plain black t-shirt. His chin is resting in his hand, as if he was trying to do thoughtful, but he is looking at the artist with a slightly mischievous look on his face and the trace of a smile.
For his formal Trump as Grand Duke Helgram, which is in the Thelbane Trump Deck, he is shown standing in the Helgram Throne Room.
There is no visible weaponry in either Trump.
Astral Form
In his astral form, Ian looks somewhat younger, and his hair is more red and noticeably longer. He's dressed in a leather jerkin over a woollen tunic, dark breeches and riding boots, with a cloak falling from him shoulders. There is a heavy, cross-hilt sword at his hip and a dagger in his boot.
Titles and Distinctions
Chaos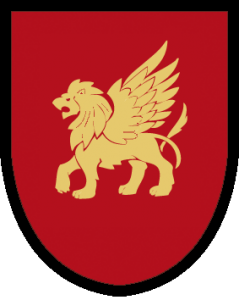 Grand Duke of Helgramways
His Royal and Imperial Highness, Ian, Archduke of Chaos
Prince of House Barriman-Swayville
Prince of House Barriman-Dworkin
Prince of the Royal House of Swayville-Barriman
High Grandson of King Swayville and Prince of the Void
Duke of Ianways (aka Stokesay)
Master of Ichlergard, in Swayvilleways
Knight Commander of the Order of Justin the Stern
Knight Commander of the Order of Dara
Amber
His Royal Highness, Prince Ian of Amber
Duke of Upper Essex (honorary title)
Grand Commander of the Order of Unicorn
Grand Commander of the Royal Bleys Order
Knight Commander of the Order of St. Maud and Albert
Knight Commander of the Order of the Arden Woods
Knight Companion of the Order of the Golden Sword
Knight Commander of the Order of King Oberon
Commander of the Order of the Jewel of Judgment
Founder Member of the Order of the Horn
Prince of Avernus
Conquerer of the Cabra Shelf
Brandenberg
Prince of Brandenberg by decree (behind Brand's sons but ahead of his grandsons)
Knight Commander of the Order of Brand
Holder of the Order of Brandenberg
Commander of the Order of the Comet
Other
Supreme Guardian of Tenterden
Sir Ian Hawke, KCMG, Baronet (Tenterden title)
Companion of the Inner Circle, Germania
Protector of the United Kingdom, Ancient Earth
Known Family
Of his acknowledged children, Ian has seven sons and four daughters.
His eldest son, Wolf Ulrich, is from an ill-starred affair in his youth, through whom he also has a number of grandchildren. He has now been officially recognised as Ian's heir, both within Amber and on Tenterden, and succeeded Ian as Bleys's heir in Amber when Ian took himself out of the Amber succession.
His eldest daughter is Eleanor, by a Hendrake mother, who was until recently a prisoner of the Pretender Random. She, in turn, has one son, Theodore. They are both currently on Tenterden.
His second daughter, Caroline, is the product of an affair on E1, before it was taken over by Matthew. They have a difficult relationship, and she is currently living on Ancient Earth.
He recently acknowledged that Jowan Daveth-Helgram , and his twin Thorn, are also his sons, from long before his marriage to Marina, thereby confirming rumours which have been going around House Helgram for some time.
He is married to Marina Acker, daughter of Dieter of Germania, with whom he has four children. The eldest (from before they were married) is Artur Acker. Since their marriage they have also had twins, Rowan and Linden, and another son named Thomas. Ian has recorded all four in both the Amber and Helgram genealogical records, although their three younger children have not often been seen around either Amber or Chaos.
On becoming Grand Duke of Helgram, he also formally acknowledge another lad called Bobby and a fourth daughter, named Mary.
Ian is also recorded in the House Helgram records as guardian to twin boys, Fergus and Donal, who are being brought up within the household of Duchess Marguerita.
It is assumed that he has other children (he has referred to Artur as his seventh son in an unguarded moment), but at this time, their identities have not been recorded.
Known Capabilities
In the time since he came onto the Family radar, Ian has demonstrated that he is an experienced ritual magician, used to working in both individual and group settings, and in a number of traditions. His involvement in the attacks on Rebma and Random's army, and his efforts to prevent a Jewel-fuelled hurricane from devastating Amber, have probably given more insight than his previous activities into just how experienced he is; and moreover, later events have shown that his  skill in this field is still improving. While other members of the family have shown significant skill in the ritual area, Ian is probably one of the best of his generation.
By now it is also probably reasonably well known that he has taken his study of the Pattern to the higher levels.
He has shown himself to be an able a military commander, first in the Amber riots and later during the Random uprising. Subsequently his skill as a small-unit specialist has been demonstrated in a variety of other engagements in both Amber and in Shadow. In addition, he has proven as a decent administrator in his position as Lord Mayor of Amber.
More recently, he has demonstrated a number of slightly more unusual skills. He is a proficient healer, through both arcane and mundane means, although the arcane mechanism he uses hasn't entirely been explained. He is also a skilled interrogator, with a knack for getting people to tell him what he wants to know.
Residences
Rooms in Amber
Ian's rooms in Amber Castle's NW Wing were cleared of virtually personal possessions after he renounced the position of Crown Prince. However, they are still maintained in his name, and a couple of sets of clothing are still  in the closet for emergencies.
Other Residences and Properties
Amber:
In addition, he is the owner and operator of the Eagle Island Resort in the Amber Islands, which has recently opened to the public.
Tenterden:
Wittersham House, Ian's family estate
3 Albion Close, London W1
Chaos:
Ian has a small Ways within the greater Helgramways, which he has named Stokesay, and requested that the Keeper of the Ways pattern the arrival area on Stokesay Castle, on his home world.
He also holds title to a palace in the greater Swayvilleways complex, named Ichlergard.
==
Further information about Ian (including the inevitable background stories) can be found on his character site.