Allison Adams is the fifth child and third daughter of Dave Adams (Sawall) and Michelle Adams (nee' Barimen).
She is the afterthought, conceived about a decade after her siblings after an interlude where Michelle got kidnapped. Dave was with his friends and they helped free her from a kidnapping by the Lynxes. The happy reunion resulted in Allison.
Due to timeflow, she is nearly the age of some of her sisters. The brothers were aged to older and the sisters brought into close age with each other.
Dave and Michelle decided that in the best interests of the multiverse to take their children 'home' aka to Michelle's parents' shadow, a private shadow of Gerard's. Rilga lives there, Gerard's mother and Michelle's beloved grandmother.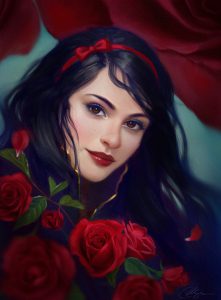 Allison is nearly 18 and waiting for the day she can leave…rather than follow her older sister Constance's being locked into her great grandmother's penitentiary/nunnery/convent school like her sister Constance was. She has been the quiet one of the three girls, but. She can taste freedom and she wants OUT of there.
Compared to her sisters (Constance went through the nunnery and was ordained a priestess of the Rilgaite faith and it has not been good since, and Beatrice seems to have a fixation on Tone since she was 14) she has been the quiet one. So far.
The picture is her senior picture for graduation. She is wearing dark contacts as she doesn't want to show her Corey green eyes right now.
Height 5'9″ and black hair, green eyes. The contact she is currently wearing show blueBrown or because of the green below, a bit off brown eyes. Reputed dimensons  43, 26, 34…
She claims 128# but may be heavier as she's quite athletic. She swims and holds records in 440 and 880 breaststroke swimming and has won many events with her horse (currently 11) Merriwether (gelding). She loves to ride steeplechase. She also is a dab hand at archery, even from horseback. In the odd shadow Elgemon, she had ridden for an Olympic team plus swam and won several gold and silver medals.
She is also known to play the piano, harpsichord and lute, and built a harpsichord at 16 with another, from a kit. She painted it in high French baroque and it is in her 'parlor collection' of furniture and furnishings she is collecting towards a future household (hopechest/troussaeau/dowry)