Legitimised son of Wolf Ulrich.
Trump Description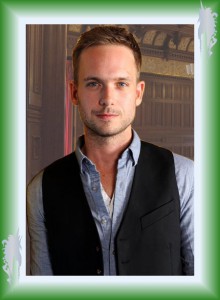 Armand looks to be in his early thirties. He is taller than Wolf, standing around 6'0″, weighing maybe 180lb and has the fit physique one would expect from a soldier. He has dark blond hair, bordering more on red than it used to in certain lights, and intense blue eyes that he obviously inherited from his father – and ultimately, his ancestor Bleys. There is also a noticeable scar over his left eye. In his Trump, he is wearing a light beard – or maybe dark five o'clock shadow, which does little to hide his relative youth.
Instead of the previous uniform, he's now pictured in civvies: a blue denim shirt, grey waistcoat and dark jeans. From the background, he is obviously standing in an archway within some kind of wood-pannelled manor house, or similar building. His posture is still pretty straight backed, although now it has less of a feeling that he's at parade-ground ease and more one of growing confidence in his own abilities. He is looking directly at the artist, with a trace of a smile on his lips.
Astral Form
Armand's astral form throws off his day-to-day military demeanour, and is very much a teenager on his way to the beach. His hair is longer than in his waking form, and seems sun lightened from his usual dark blond, and he appears wearing a loose white t-shirt, grey below-the-knee-shorts with lots of pockets, and is barefoot.
Family and Quick Background
Armand is the son and heir of Wolf Ulrich, and it's obvious to those who've met them that Wolf is very fond of him. Through Ian, he is a great grandson of Bleys; through Wolf he is a great grandson of Brand. He has also recently had confirmation that his mother is a daughter of Fiona's with Mandor (and incidentally, learned that he has another brother on his mother's side, called Konstantin), which has led him to the conclusion that he has way too few ancestors for any normal gene pool.
He was born on Tenterden and brought up within the GGR Lebensborn System, where he was in the same platoon as Artur Acker, who remains his closest friend. After graduation, he went into the Tenterden GGR military, where he served in the special forces, undertaking a number of covert operations, especially with regard to hunting partisans in Poland and Russia. After he met his father, Armand was transferred to the GGR Embassy in London, initially as part of the protection detail, and then briefly as Second Military Attaché. However, he was eventually transferred from Tenterden to the Waffen-SS on Germania, where he has developed close links with Führer Dieter. He speaks English with a distinct German accent.
As far as Amber is concerned, his first appearance was a brief meeting with Matthew and Geran, before being escorted down to the basement to walk the Pattern. This was shortly followed by him becoming the victim of kidnapping and torture by the Lynx Cult, who consider him to be the reincarnation of one of their past leaders. At a Lynx trial in BNA, the defendant, Lord Licent, made a number of worrying claims with respect to the way Armand is perceived within the Cult.
During his time on Germania, he discovered a previously unrealised talent for leading troops at a higher level than just a mere captain, and was suitably rewarded for his actions, being promoted to the rank of Gruppenführer. He has also undertaken further cross-Shadow training at the behest of Edward, Earl Marshal of Amber, who saw Armand's potential and decided to harness it. Since then, he has made a name for himself in the Rebman Campaign, against the Weirmonken, and also assisting his Uncle Edward with the Avalon Campaign.
He holds the rank of Field Marshal in the Royal Amber Army, having recently been presented with the baton by King Bleys, as well as his Germania rank.
On the military side, he currently serves as Lord Protector and Regent of Rebma, in the name of King Bleys. He also spends some of his time working with the Germania Department of Propaganda (as a Waffen-SS poster boy and actor, as well as soldier).
In the civilian world, he is Home Secretary of Amber.
Armand bears himself like a soldier, and also enjoys life when on leave, where he has a reputation as a womaniser. Thus far, he is only aware of two offspring: a daughter in her thirties, named Ulrika (who herself has a son) by a Hendrake mother; and a son of about ten called Adrian, with Charlotte, a distant descendant of Bances and the closest he has to a regular girlfriend.
He was recently made Duke of Mairfax, and given the Barony of Thedden Green, formerly held by Tyrian son of Corwin.
He has rooms in Amber, as well as in the Palace in Rebma, and also keeps a penthouse condo on Germania.
Titles and Distinctions
Prince of Amber – Legitimised by Bleys
Duke of Mairfax
Field Marshal in the Royal Amber Army
Regent of Rebma
Home Secretary of Amber
Commander of the Order of the Unicorn
Member of the Pattern Access Committee in Amber
Acknowledged as a member of the House of Brandenburg, with the courtesy title of Prince.
Acknowledged as a member of House Helgram and legitimised by its Grand Duke.
Gruppenführer in the Germania Waffen-SS
Freiherr von Lichtenfels and holder of the Knight's Cross with Oak Leaves and Laurels, Germania.
Freiherr von Armandburg, Germania.
King of Baden and Archduke of the Ruhr, Lorraine Cluster
His Trump is in the Amber Family Deck.
Known Capabilities
Armand has studied extensively with his Great Uncle, Prince Edward, and is now a very gifted commander of me, both at the grand strategy level, and in more small-unit circumstance. He can be very charming, and has a knack for getting people to do what he wants.
He is known to be both a ritualist, and a sorcerer with a speciality in battle sorcery.
He is competent with weapons, but has a particular affinity for swords of various different kinds, and has fenced in the Olympics  on Tenterden, representing Germany. He is also a very good shot with both firearms and bows.
Off the battlefield, he is effortlessly charming, making him very popular with the ladies. He also sketches a bit and plays the piano.
He has a draconic companion called Solo, made for him by Artur. It has a wingspan of about 5-6ft and a body length (with tail) of 4ft. Coloured olive, green and brown.
Armand's Rooms in Amber
Armand's quarters are in the Main Castle, a little down the way from his father's. They comprise a small lounge, an office area, and a separate bedroom with at least basic en suite facilities. They have been furnished for practicality, rather than luxury, and the impression is less of a home and more of somewhere to lay his head.
There are simple but comfortable chairs in the lounge area, plus a small dining table off to one side. There are also one or two occasional tables around the room with photos and trinkets on them. Pride of place is one of his immediate family: himself, Wolf and Artur, all in Germania uniform, and in Artur's case, with a silver and black stole around his neck; and Ian and Marina in civvies. Over the fireplace are mounted a pair of crossed swords, probably from the early-1400s. On either side of the fireplace are two original paintings, one of the Battle of Agincourt and one of Waterloo. The signature is AA. There are also framed plans around the walls, which look like orders of battle for a variety of different battles in different places across Shadow.
His study comprises a wooden desk with a comfortable office-style chair behind it, and two more basic ones in front, and a lot of bookshelves. There are also locked filing cabinets against one wall. There is one other original picture in here, but by a different artist, of the final battlefield in the Patternfall War.
His bedroom is again simply furnished: a double bed, a chest of drawers, and a walk-in closet with a curtain dividing it from the rest of the bedroom. Clothing in the closet includes: a number of uniforms from different periods and armies, a tuxedo, a couple of civilian suits, a number of long-sleeved shirts – both formal and informal – and on a set of shelves to one side are a variety of jeans, trousers and shorts. Another curtain, across the room, divides off the facilities.