Marianne Katsumi Ashikaga de Corey
Marianne stands about 5'8″ tall, weighs about 145 lbs. Long black hair and blue eyes. Has some Asian influences in her coloring and appearance. Marianne normally wears a dark red blouse under a silver trimmed, sleeveless black doublet and black, tightly fitting breeches tucked into black leather, knee-high boots. A black and crimson leather coat is worn overall.
Marianne's Colors: Black, Crimson
Marianne's Symbol: a seven pointed silver shuriken covered in dried blood.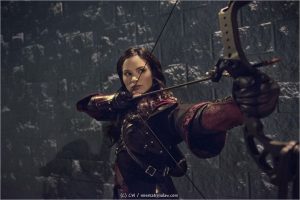 Marianne is the eldest daughter of Aleksandr and Amaretsu Ashikaga, in Nihon, part of Greater Pacifica. Her brother, Tenaka, was raised to rule Nihon; she was raised to assist him. Marianne has trained in combat and the mystic arts. She has a keen mind, and an eye for details.
Marianne has one of those Unlife Bane weapons some people made with Lucius. Her's is a pair of kama (Japanese sickle) blades linked together with a variable length of chain. She has name it 'Backscratcher.'
Titles (known thus far):
Greater Lorraine
Duchesse de Haut-Rhin (Alsace)
Princess of Alsace
Princess of Alsace-Lorraine
Princess of Greater Lorraine
Greater Pacifica
Princess of Nihon
Princess of Greater Pacifica
Parys
Amber