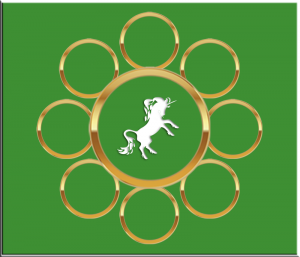 The Golden Circle is a collection of Shadows situated near Amber, which have close dealings with the Eternal City. There are 100,000 independent government units within the Golden Circle, roughly matching the same of Shadows that fully form the Golden Circle Empire. I originally grew in rings around Amber but has extended to the area of shadow where the Pattern has exclusive control and can block other powers from operating there, or if a a Pattern user has temporarily decided that it is. There are plans to build a new capital for the Imperial Golden Circle Empire: perhaps even more than one capital.
The Kashfa Line with the location of the now destroyed world of Kashfa is the border of the exclusivity zone of the Pattern.
Prominent members of the Golden Circle include:
Eregnor
Begma
Gaiga
Third Osettia (implying many other Osettias)
The Golden Circle spent a while under the leadership of Prime Minister Jericho who was encouraged to scourge the area and remove its means to rebel. A rebellion occurred and exploded, resulting in the Inquisition which restored order but also rebuilt the land and provided protection and succour for the displaced. This prevented a huge refugee crisis in Amber. For some time, a State of Emergency was in force in the area, but this has recently been lifted by a proclamation by King Bleys.
Post proclaimation
Each Kingdom has limited autonomy, with its own Patriarch of the Church of the Unicorn, although civil disorder or excessive conduct may merit interference by the Viceroy's government. They must be monarchies, with an optional parliament. There must also be a legalised succession plan, that is adhered to. Each King needs to swear allegiance to the Viceroy or the Emperor (King of Amber)
Each Kingdom also has its their own military, although, again, the Viceroy may now assume command of all units of a GC nation. They are Federated, which means there is now a new senior level of government – the Imperial Privy Council of the Golden Circle and the Viceroy. In addition, the Golden Circle Empire has its own fleet and army, assuming ownership of the previous Inquisition Army.
Trade between Amber and the Golden Circle, while benefiting Amber primarily has enormous benefits to the GC as well. Trade is regulated internally and externally by the central Viceregal government.
GC member nations may no longer declare war on another GC member nation, but instead must submit their grievances through the Viceregal Government and then, if they remain unsatisfied, they can appeal the Emperor (King of Amber). Historically the GC was a battleground during the Civil War between Finndo/Osric and Oberon. Chaos later invaded and seized much of the Golden Circle in the First Amber-Chaos War. In the time of the second Amber Civil War, Eric's diplomacy gave him the GC's huge resources. There was little or no support for Corwin or Bleys, neither of whom have ever forgiven the Golden Circle.