Owned by Ian, Grand Duke Helgram, the Seamount broke the surface of the ocean at the beginning of November (2018), about twenty miles to the south-east of the Big Island of Hawai'i.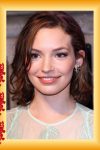 Since then, it has been developed somewhat, and is now home the luxurious Lo'ihi Black Sand Beach Resort. Access to the resort is by boat, helicopter or float plane, and everyone coming to the island via these routes are welcomed to the island personally (with leis) by the efficient and friendly staff.
The accommodation ranges from studios, incorporating both a sleeping and living area, to full one- and two- bedroom suites. Full kitchens are not provided, but all rooms include sinks, tea and coffee making facilities, a microwave, and a small fridge, plus a separate mini-bar. All the accommodation includes balconies, with either sea views or views of the mountain and jungle.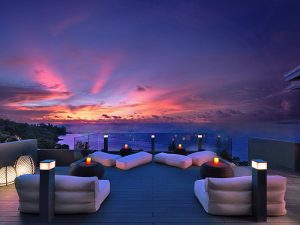 Visitors are welcome to enjoy a drink at either the Deck Bar, with its wonderful views out over the ocean, or relax in our comfortable Lobby Lounge, or sit and enjoy a book in our comfy Library.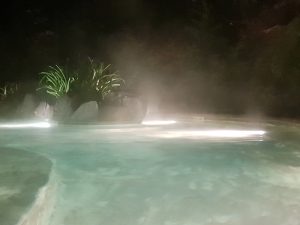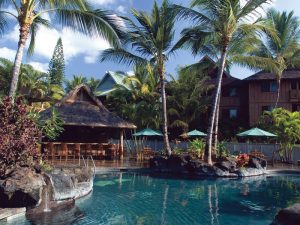 Or, if you're enjoying the sunshine, visit the the Poolside Cocktail Bar, which is located between the swimming pool (kept at a similar temperature to the sea), and our outdoor, mildly salted soaking pool (average temperature of 35-36°C).
Gourmet food and an extensive wine list are available at the Sunset Restaurant; the Viewpoint Bar and Grill offers more casual, outdoor dining, including steaks and game; while the Sunrise Cafe offers lighter fair, and Kona coffee. A full waited breakfast service is available in the Restaurant, while the Viewpoint offers a breakfast buffet for those who want to get out and about earlier.
In addition, for those who like to be pampered while on holiday, the resort has a fully equipped spa, complete with a natural hot spring pool, with an average temperature of 40-42°C.
The resort has an extensive black sand beach, from which guests are invited to swim, surf, snorkel and scuba dive or take boat tours (including whale watching and swimming with dolphins), around Loihi and to the other Hawaiian Islands.
Hikes and other adventures up into the forests surrounding the lower slopes of the volcano are offered, including guided walks to some of the dormant lava caves, as well as aerial tours via the resort's private helicopter up to the summit. Please contact the concierge for further details. A small nature reserve is being established on the far side of the island from the resort.
Please note: Guests are advised not to hike up to the summit (currently c.2,000m above sea level, and c.5,300m from the seabed), however, given how recently it was erupting, and the management does not accept responsibility for loss, damage or injury to property or persons from ignoring this advice.